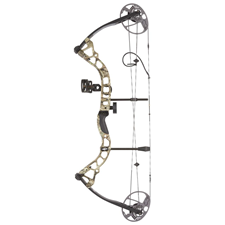 DIAMOND PRISM PKG-RH, MOSSY OAK BREAKUP COUNTRY
Out of Stock
View Details

Bowtech
High-Quality Bowtech Products Available at Racine Archery Shop
Root River Archery, Racine's premier archery shop, sells a selection of high-quality archery products and accessories from brands like Bowtech.
Bowtech, one of America's leading manufacturers of archery products, offers a comprehensive line of compound bows for purchase for hunters from all walks of life. Novice hunters can find products like The Fuel for a fully adjustable chassis to match all hunting styles. An experienced huntress can find bows like the Eva Shockey Signature if they'd like an ultra-lite bow designed by women, for women. Competitive archers can find products like The Fanatic 2.0 if they'd prefer a bow designed specifically for target shooting. Even hunters who usually buy crossbows can find a comparable Bowtech model. However you hunt, you can find a Bowtech bow designed specifically for you.
Bowtech Women's Hunting Bows
Field tested by the world-famous huntress and TV host Eva Shockey, Bowtech offers a selection of women's hunting bows made by female archers, for female archers. Bowtech's women's hunting bows pair a comfortable draw cycle with a lightweight frame. Whether you want the lightest women's hunting bow available or a professional tested premium bow, female archers can find the hunting bows they need at Root River Archery.
The Bowtech Draw
Despite being a little over 15 years old, Bowtech has already become one of the leading names in the archery industry and one of the largest. Most Bowtech products feature a binary cam system, allowing for superior performance with minimal effort. Many professional and recreational archers are drawn to Bowtech's ergonomic design, unmatched performance, and all American construction. Bowtech has an admirable commitment to its integrity and listens to their customers, employees, and suppliers. Hunters who want a compound bow with industry-leading technology and superior performance choose Bowtech.
Contact the Bowtech suppliers at Root River Archery to special order any archery products.